History of SUNBO
It has been about 30 years since the establishment of SUNBO, which started its business in 1986 as Namyoung Industry. The pioneering days of SUNBO were full of challenges and passion towards a bright future.

Starting from a small factory about 33m2 in size SUNBO has grown to become a medium enterprise in about 10 years. At present, the industry recognizes the accomplishments of SUNBO. These accomplishments resulted from the passion and unity of all SUNBO personnel, in addition to the quality innovation and customer-centered management strategy that have been consistently invested in the company.

The achievements realized by SUNBO will be further surpassed through the implementation of 'better life values' and concept of 'a business that pursues happiness.' In order to observe these, we promise to create the best values and pursue harmonious growth based on human respect and family-friendly management.
These ideals are close to the principles of national development and prosperity of mankind; therefore, we are determined to face and accept such serious responsibility.
The world's no. 1 in the module unit of the shipbuilding industry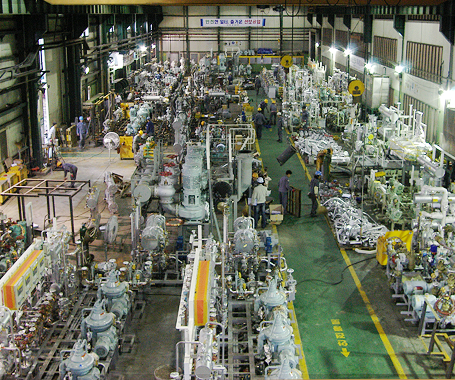 For the first time in the world, SUNBO adopted the concept of ship modules with the idea of 'production of a part of a ship through modules'. This innovative concept has contributed to the enhancement of productivity in the shipbuilding industry.
In the past 30 years, SUNBO has realized remarkable accomplishment through strong innovation and indomitable spirit. The expertise of SUNBO has been recognized beyond the local market and has conquered various overseas markets including those in American and European countries. Even at this moment, SUNBO is writing a new chapter in the shipbuilding industry's history
The challenges for SUNBO's growth and transformation will continue this year. All SUNBO personnel are reformers and pioneers who actively promote new businesses in related industries such as marine and land plants, LNG fuel propulsion system, and ballast water treatment system. These major areas are expected to lead the future growth of SUNBO in order to achieve our dream named as Vision 'PLUS2020'.
Selected as the 'Best Family Friendly Management' by the Ministry of Health, Welfare and Family Affairs
As the purpose of one's life is to be happy,
a business also dreams of happiness for the world.
If the external goal of SUNBO is to be the best module company,
its internal goal is to 'give happiness' to our employees and customers.
All personnel of SUNBO group of companies aim to contribute joy to mankind and the whole world through creative and innovative technology.

SUNBO has a unique and passionate approach in providing happiness to employees and customers; it pursues a virtuous cycle that promotes business growth through employees' happiness. All personnel exert their utmost efforts to cultivate powerful but warm-hearted teams in the company.

Based on such values, the SUNBO group of companies promises to be a capable global leader that can develop partnerships with other businesses and the local communities as well.